Design
The Legacy Continues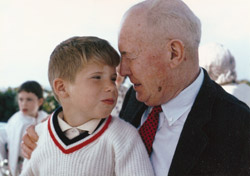 PB Dye and his grandfather
P. B. Dye took his first golf lesson and fell in love with the game about the time most kids are barely out of rubber pants. That was back in 1959 when P.B. was four years old, and in the five decades since, he has turned into one of the outstanding golf course architects anywhere, not to mention his near scratch golf game.
"By the time I was six, I was working with my Dad in his golf construction business," says P. B., referring to this father, legendary golf course designer Pete Dye.

Actually P.B. is a third-generation architect. "My grandfather built a nine-hole course on a farm in Urbana, Ohio, in the early 1920's."

Growing up in golf course construction widened his view of people, says P.B. "My father always told me that exposure is the best teacher in the world and I could live from experiences – either someone else's or my own. I've tried to learn from both."

To add to that exposure, P. B. traveled for years between Indiana in the summertime to Florida in the wintertime in the course construction business, giving him two sets of environments to learn from.

P. B. claims his design philosophies come from actual on-site experiences, athough his studies at the University of Tampa probably have influenced his design techniques. His majors were Psychology and Byzantine History; his minors were Spanish, French and Italian.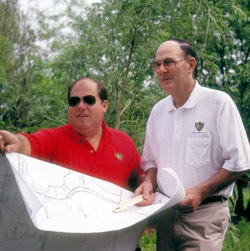 PB and Pete Dye
"I love the game of golf, and I do as much as I can to enhance it because of that love, " P.B. says. "I grew up on high-caliber golf courses and watched my father build great layouts. And that's what I want to desigging great layouts like Barcelo;s Bavaro Beach and Golf Course.

"Fortunately for me, the work I do requires so much personal attention that it allows me to build only a few courses at a time. It also permits me to be very selective; the primary concern with the clients I work for is the game of golf itself."
Since 1981 P. B. has had his hand in the design of at least eighty golf courses – three of which are on the current list of top 100 golf courses in the United States, according to Golf Digest and Golf Magazine."

"P. B. is one of the most talented designers I know," says Pete Dye. "I'm not just saying that because I'd his Dad, either. I've heard a number of profressionals in the design field say the same thing. His creative instincts are superior to mine than when I first began my career, and he'll probably have more than I do when I retire."